Hive Fleet Kronos painting service
The Best Hive Fleet Kronos painting service
Hive Fleet Kronos is a secondary Tyranid hive fleet broke off from Hive Fleet Leviathan in the Era Indomitus and modified by the Hive Mind to fend off the powers of Chaos in order to maintain the Milky Way Galaxy's biomass capable of being consumed and keep it from being tampered with the Warp. Kronos fights daemons and Chaos-corrupted prey on a regular basis, and it is well-suited to slaughtering its victims from distance. Large Termagant broods are frequently part of its invading swarms, which are led by Tyranid Warriors with long-range Bio-Cannons.
HIVE FLEET KRONOS COMMISSION PAINTING SERVICE
If you want to hire your Hive Fleet Kronos right now and make the process faster, tell us what you need and we will take care of it. We just need to know:
•Miniatures to be painted
•Painting levels
• If the models require assembling or to be purchased
• Scheme of colors
If you are having trouble to upload files to our contact form, please directly send us an email to: info@whiteweaselstudio.com
Hive Fleet Kronos Commission painting service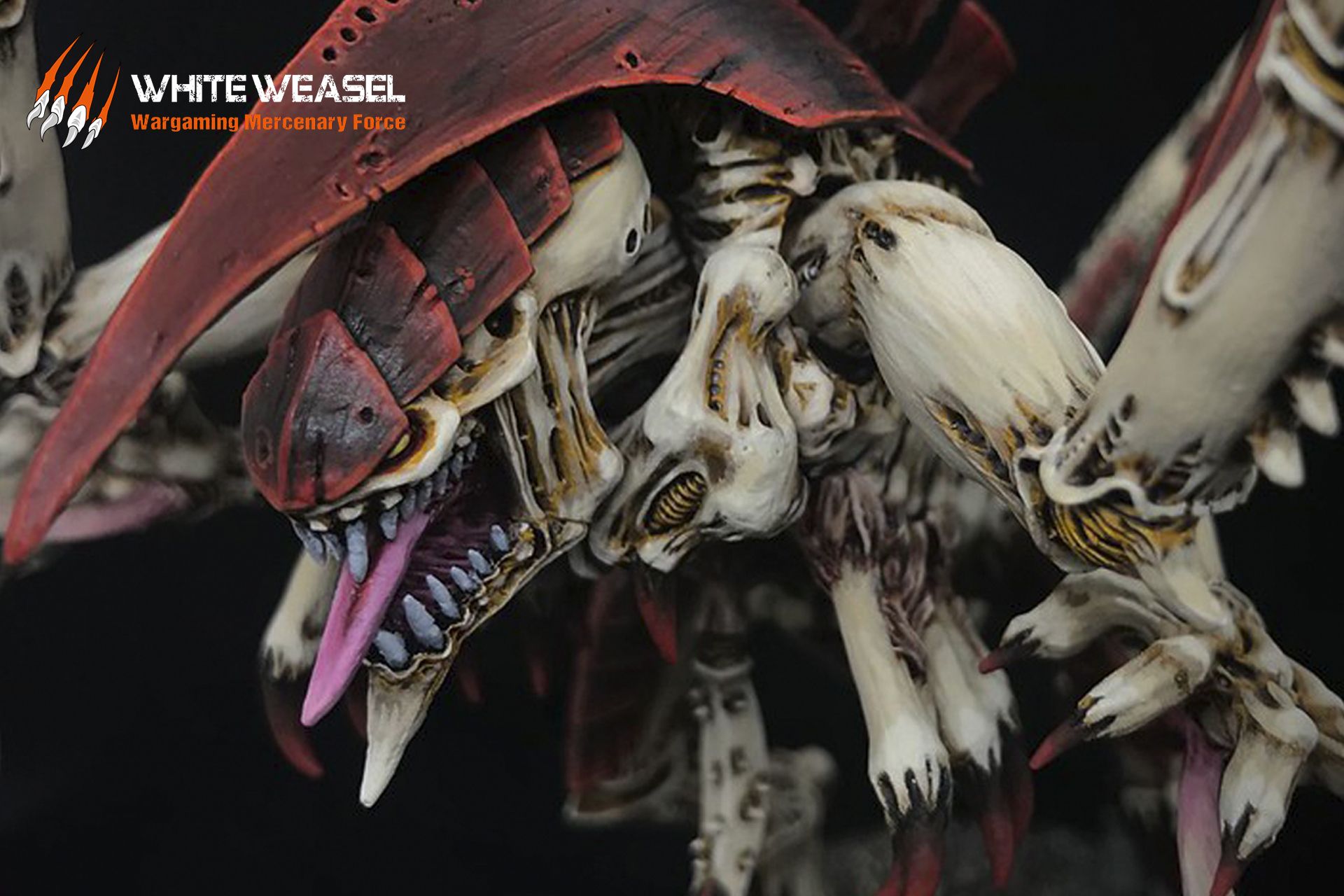 Painting Hive Fleet Kronos miniatures is much more pleasant since it seems more immersive Because Hive Fleet Kronos bioforms have red and black carapaces, their painted miniatures will overwhelm you. You'll have a lot of fun playing with these nicely painted miniatures. Hive Fleet Kronos figures need meticulous attention to detail, including methods, equipment, and particular actions; nothing should be left to chance Our Hive Fleet Kronos miniature painting service will provide you with exquisitely painted figures that will make your components jealous.
Professional Hive Fleet Kronos painting service
Putting a painted Hive Fleet Kronos miniature on a terrain board and seeing the players become nervous and thrilled is a lot of fun. Other types of games cannot compete against a finely crafted miniature. Now all you have to do is put it to the test and give it a go; we're convinced you'll be pleased with the outcomes. Take advantage of this opportunity immediately and call us if you're looking for a professional Hive Fleet Kronos painting service with outstanding results and stunning miniatures.