HARRY POTTER PAINTING SERVICE
HARRY POTTER MINIATURE PAINTING SERVICE
The magic world of Harry Potter captivated millions, so it was not surprising that his particular miniatures became especially famous. His adventures, the dangers of facing such sinister beings as Lord Voldemort, the extraordinary atmosphere at Hogwarts were a perfect formula for success.
Harry Potter the young mongrel-blood (half human) wizard is especially famous for having been the only survivor of the Avada Kedavra curse. Together with his best friends Hermonie and Ron he lives the most incredible adventures that you can reproduce with your collection of miniatures.
HARRY POTTER COMMISSION PAINTING SERVICE
If you want to hire your Harry Potter miniatures right now and make the process more agile, tell us what you need and we'll take care of it. We just need to know:
•Miniatures to be painted
•Painting levels
• If the models require assembling or to be purchased
• Scheme of colors
If you are having trouble to upload files to our contact form, please directly send us an email to: info@whiteweaselstudio.com
The best Harry Potter miniature painting service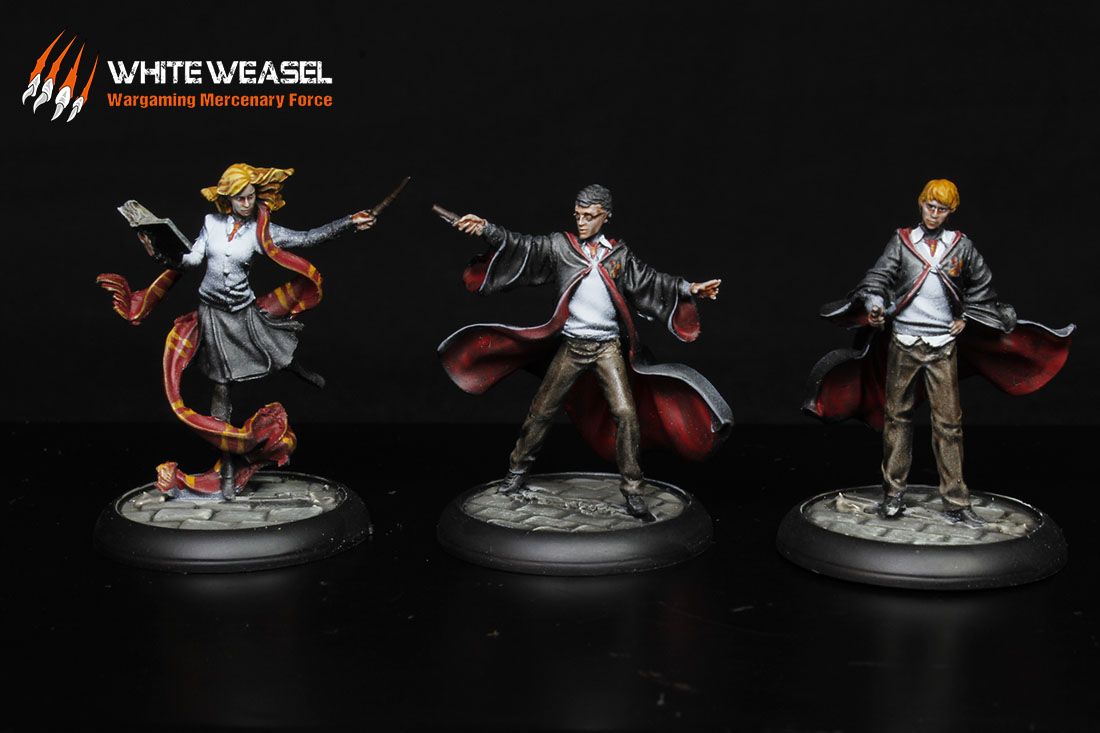 In our studio you will be able to access wonderful miniatures of this saga full of magic and unraveling secrets.
You will have your own Harry Potter to conjure up the most incredible magic spells; that will transport you to the unfathomable universe of Hogwarts and along with his best friends; you will be able to the step to the threats of the unmentionable gentleman.
You can buy your Harry Potter miniatures at excellent prices; just visit our website to verify which character you will take. If you wish, you can hire our excellent miniature painting service to fill your models with that halo of mystery so characteristic of the world of Potter.
If you choose one of the last levels you can take your miniature for free. We can also take care of your personal orders. Would you like to order a special Hogwarts enclosure? Any additional element for your collection such as the invisible layer or a special wand? Our artists will make your wishes come true.
Harry Potter commission painting service
Our sculptors are professionals who have all the knowledge and techniques to provide you with the best miniatures, with special care for details. Your Harry Potter miniatures will have all the enhancement and characteristic elements of each character. Harry's glasses will be so real that you will want to see through them.
We can help you place yourself in the spaces you desire; they will always be full of adventure and magic to enrich each of your strategies and games. Our artists are professionals who work to reproduce for you an exact enough replica of the spaces that are part of each story.
They will always surprise you because they will be loaded with the same magic, mystery, with hidden passages and rooms that will make you celebrate with pleasure. All you have to do is talk to our team and the magic will happen.
Visit our website and learn more about each one of them.