MINIATURE PAINTING SERVICE
From single models to large armies, we are your miniature painting service in USA
We are an experienced and professional company dedicated to miniature painting service
The ultimate miniature painting services!
If you're on this website, you are likely a lover of everything wargame, Warhammer, Warhammer 40k, Infinity, staging or just miniatures in general. If that's the case, we're pleased to welcome you to the White Weasel Studio experience!
Commission painting miniatures are our passion and we devote most of our time to this hobby. We put all our effort into turning anything you imagine into reality with all of our skills in miniature painting service.
We're positive you'll enjoy our work!
Commission painting service
White Weasel Studio is one of the biggest commission painting miniatures companies. We are an innovative business in the miniature painting service in USA, and we've managed to build a professional, reliable service that didn't even exist some years ago.
White Weasel Studio is capable of taking over any kind of project: from just a single miniature to a high level such as a Warhammer 40K Space Marines Primarch or even large armies of any kind including Orks, Tau Empire or Eldar Craftworlds.
Are you really that big?
We are one of the few studios in the world that can manage and paint epic-size projects with fair pricing and very high quality from the very beginning.
With more than 25 people including miniature painters, sculptors specialized in conversions, professional that can create any diorama or scenery you wish as well as freehands or custom-made basing, we are very proud of how far we've come.
We are a completely legal, registered and professional company; and painting miniatures, designing dioramas and working on basing are the activities in which we put all our time and effort.
You'll get from us the best qualities and we're constantly working on improving and outdoing ourselves.
Our Experience in miniature painting services
We've been familiar with this hobby for several years, mostly inspired by Warhammer Fantasy and Warhammer 40000. We have completed all kinds of orders, from Forgeworld detachments to massive Space Marines armies. In other words, you can trust us with your miniature project and you don't need to worry anymore about it.
Do you want to see it with your own eyes? Take a peek at our gallery of US miniature painting service!
Where do we make the Warhammer 40k painting service
This warhammer painting service company is located in one of the biggest cities in Spain: Zaragoza. From there, we have expanded to 4 continents and we have been successful at turning our headquarters into a dream place for every painter with all the tools and paints available, making the warhammer 40k painting service a great job.
Due to all this, we have plenty of creative possibilities available to get any project done; and we always try to make one-of-a-kind pieces.
Miniature painting services
Join us and get the high quality miniature painting service in the US with balance prices!
In this website, completely dedicated to painting miniatures, you can see tones of pictures and photos of Warhammer 40k, Age Of Sigmar, Infinity, etc. All of the pictures are from the orders of our clients.
Every day hundreds of miniatures pass through our workshop ready to join glorious armies!
WHAT DO WE STAND FOR?
PASSION: We firmly believe that passion is really needed nowadays. It motivates us in our daily lives and pushes us to try to reach perfection. Sharing this passion is not only a reason for our happiness but also a responsibility that we are willing to take over.
COMMUNITY: This great hobby is also a group of people with similar values and ways to spend time. We are pleased to be part of this community, and like that, we would like to add value to every miniature enthusiast.
INSPIRATION: Our job is constantly driven by continuous inspiration. We are certain that by using our imagination and diving into fantastic worlds we can bring colors forgotten from our reality back. Having said that, our goal is to pass our inspiration on and bring it to our clients.
Painting Warhammer 40000 miniatures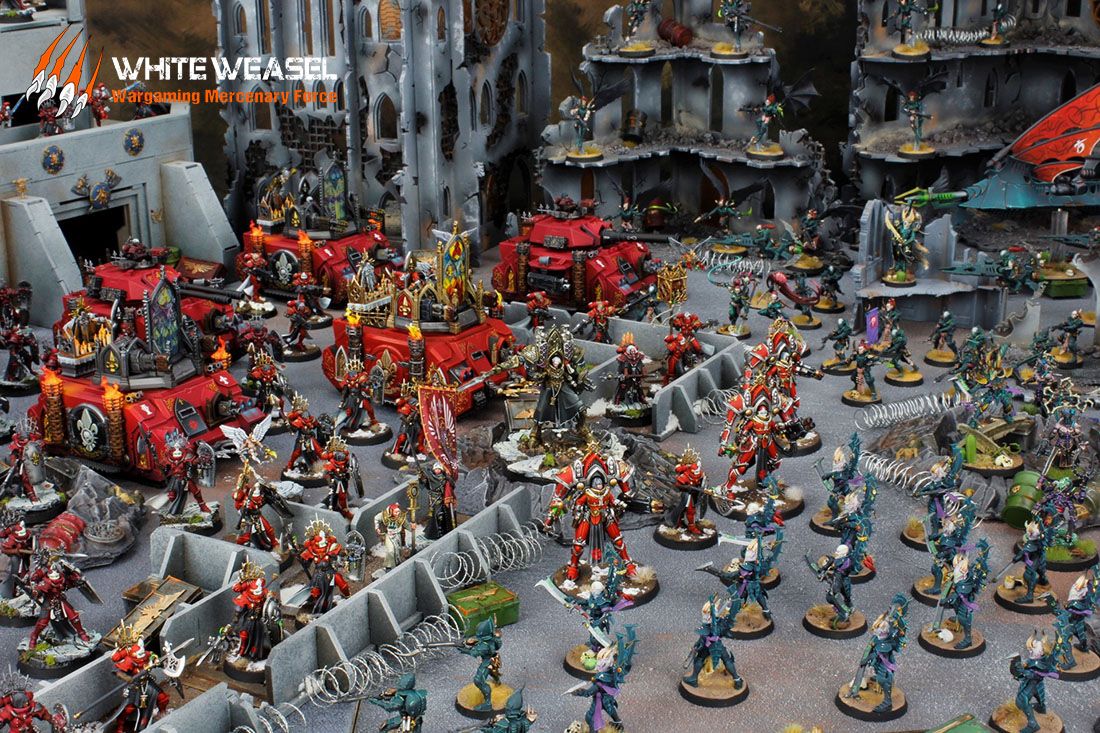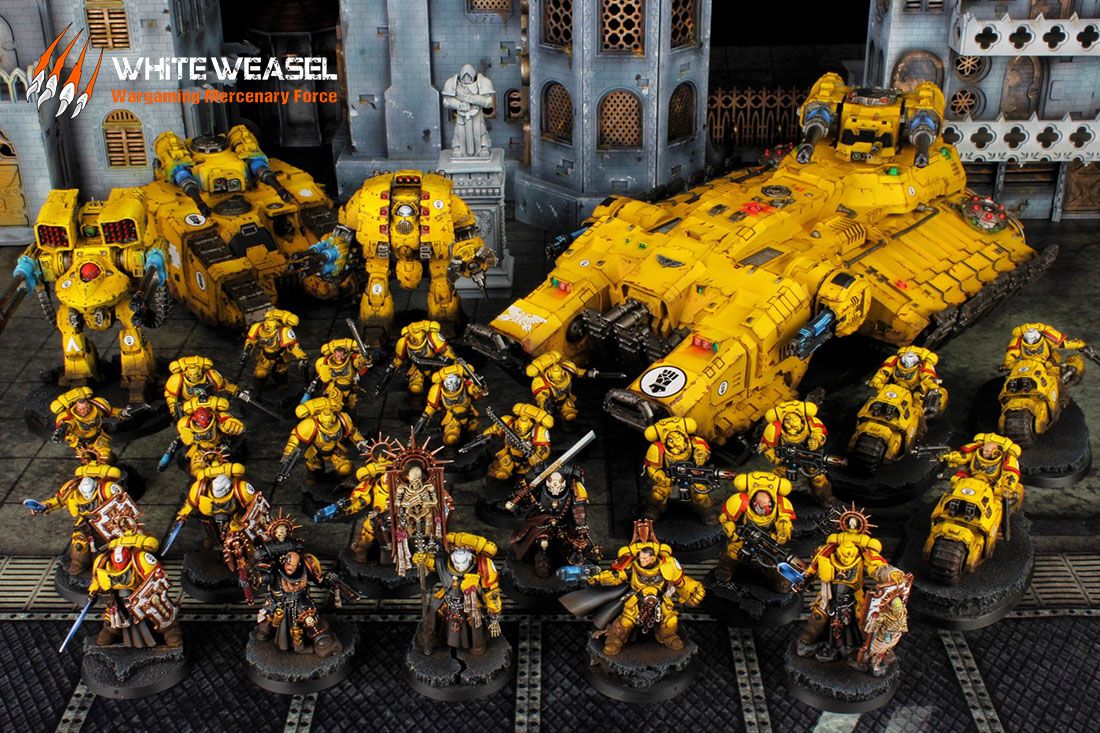 Painting Warhammer 40k miniatures
If you are a passionate Warhammer 40k player, you know how important it is to have well painted miniatures in your games. Besides being an attractive visual element, well painted miniatures can also enhance the gaming experience and make your games more cool.
Our painting studio
At our Warhammer 40k miniature painting studio, we offer a wide range of custom painting services to meet all your needs and requirements. From basic miniatures to elaborate hand-painted creations, our team of painting experts guarantees high quality work that will leave you breathless.
Learn about our service
In addition to painting your miniatures, we also offer a full customization service to make your pieces unique and reflect your style and gameplay. Whether you want to create a complete army or just add some special touches to your favorite miniatures, at White Weasel we will make you rock.
Painting of Age of sigmar miniatures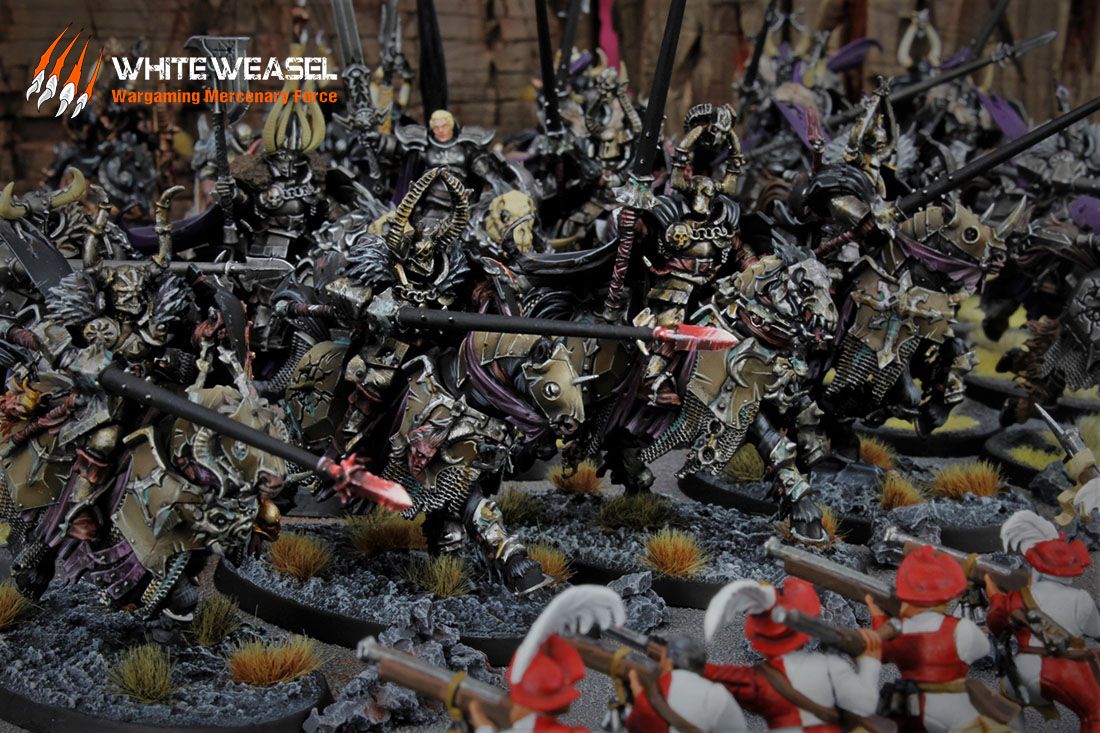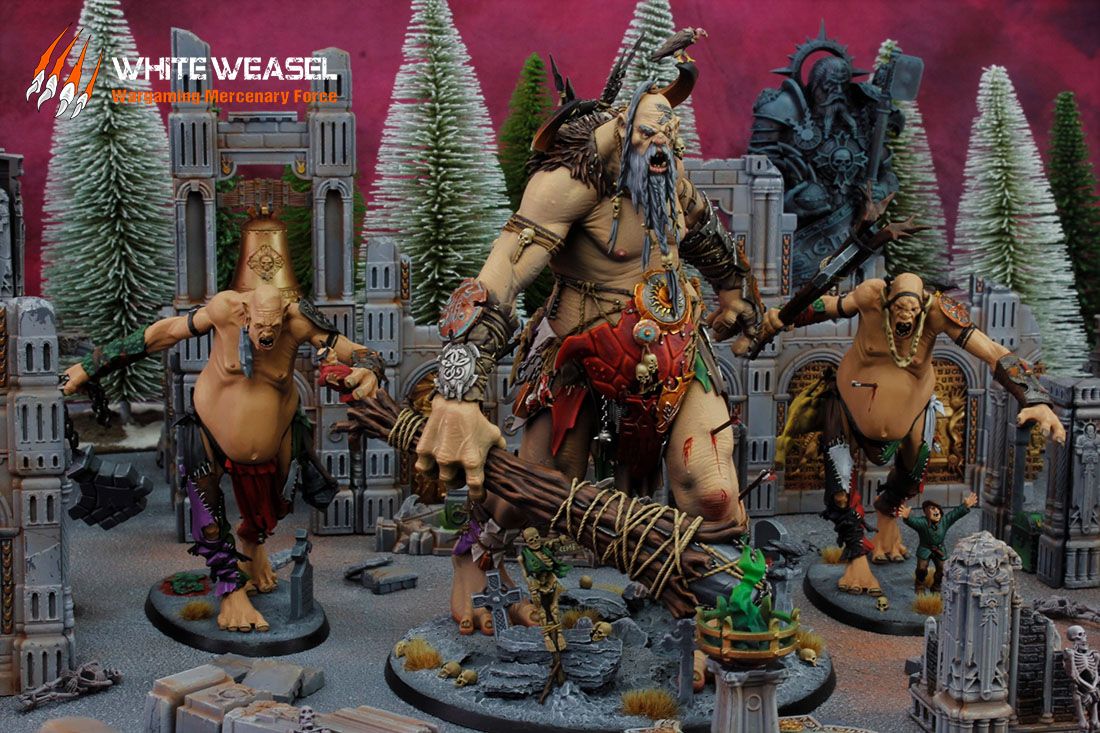 Age Of Sigmar Specialists
Age of Sigmar is an epic strategy game and at our White Weasel miniature painting studio we specialize in bringing your miniatures to life so you can experience the game to the fullest. With our team of painting experts, your army will be the most impressive on the table.
Age of Sigmar painting trends
We offer a wide range of painting services, from basic miniatures to elaborate creations with elaborate details thanks to our team of miniature painting experts. In addition, we strive to keep up to date with the latest standards and trends in the world of Age of Sigmar miniature painting.
High quality work
Our painting process is thorough and careful, guaranteeing high quality and durable work.
Contact us today for more information and a custom quote!
Painting of Scenographies and Displays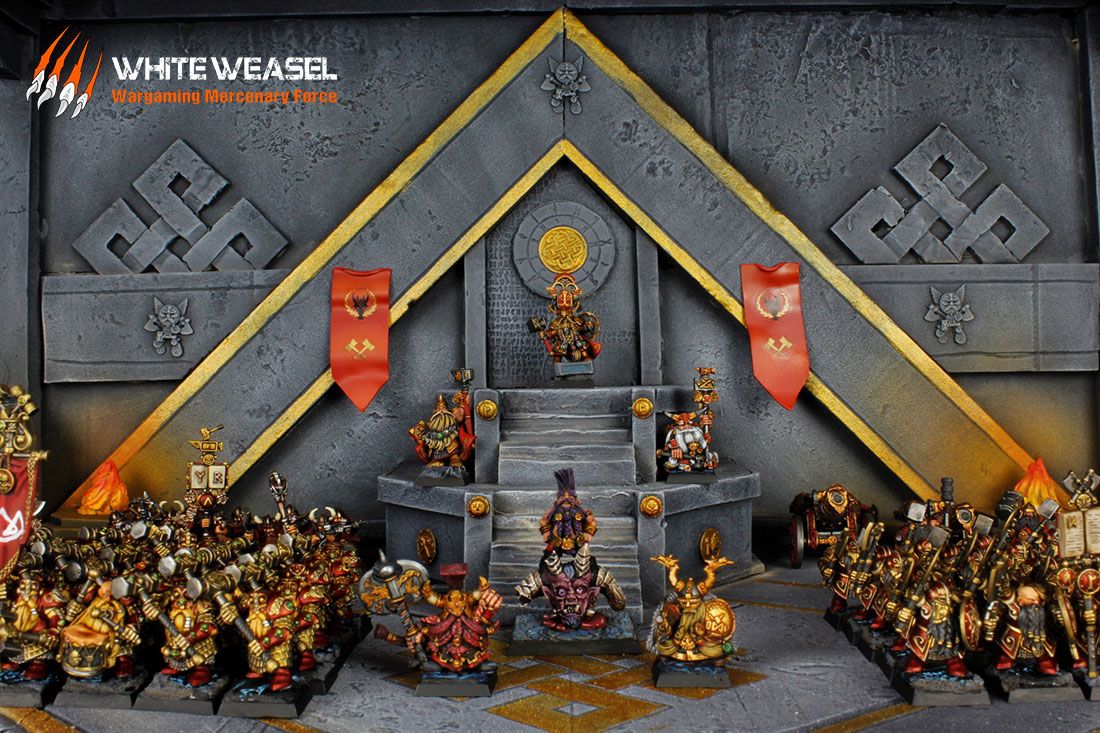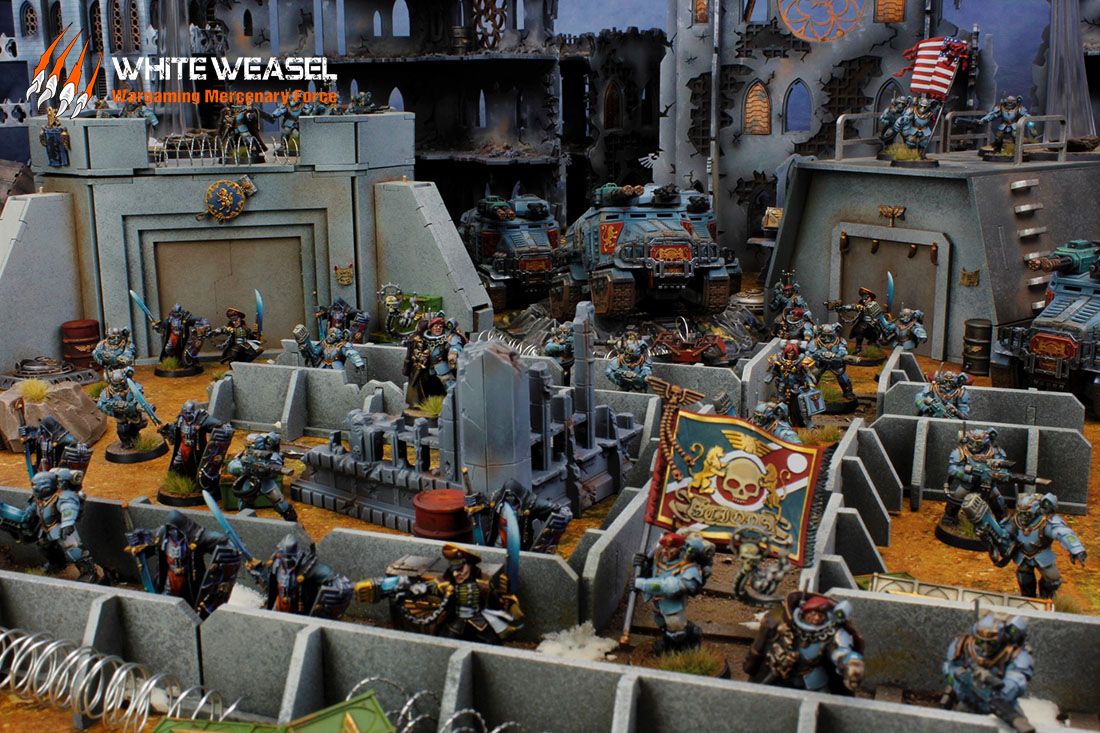 100% customized displays and scenery
Welcome to White Weasel! In White Weasel, our miniature painting studio, we have developed from scratch a department for the creation of scenery and displays.
Custom scenery
Our studio has a group of highly skilled artists who are passionate about creating detailed and realistic scenes that enrich any board or event. We offer a wide range of services for the creation of custom scenographies, from post-apocalyptic ancient ruins to a jungle full of details.
Get your custom display
Our goal is to provide our clients with the best scenography and displays that add realism and detail to their staging. We work with a wide range of materials, including resins, metals and woods, to ensure that each element is unique and customized.
Contact us today and let us bring your perfect set design idea to life!
Painting Infinity miniatures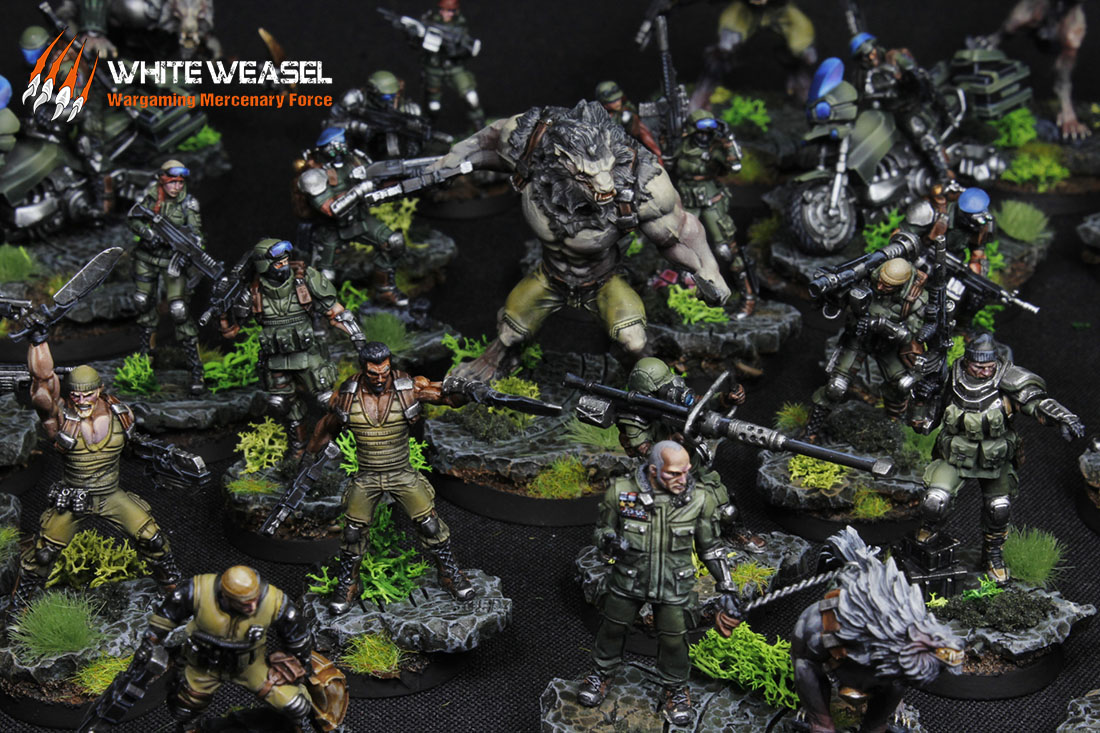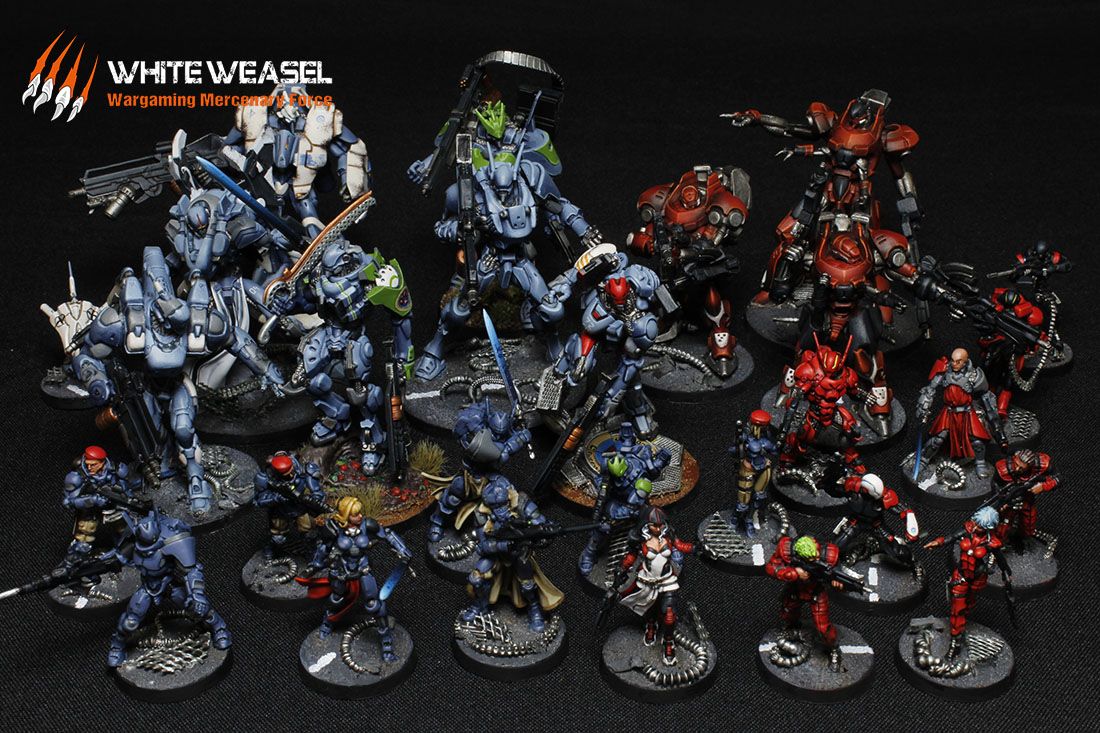 Infinity miniatures painting
Infinity is a strategic and exciting miniatures game that has won the hearts of gamers around the world, as well as the painters in our White Weasel studio. With its focus on tactics and strategy, Infinity offers endless hours of fun and challenge.
Bring your Infinity miniatures to life
From White Weasel we take care of giving life to the miniatures of any Infinity faction adding the color tones, scenes and details that you have in your mind.
Customize your Infinity miniatures
As you know, in Infinity players control different factions of advanced military forces in the distant future, fighting for control of territory and resources. Each faction has its own strengths and weaknesses, which means players must be cunning and think strategically about how to improve their forces and weaken their opponents.
Enjoy Infinity play by customizing your miniatures and scenarios professionally with White Weasel!
Why choose our miniature painting company?